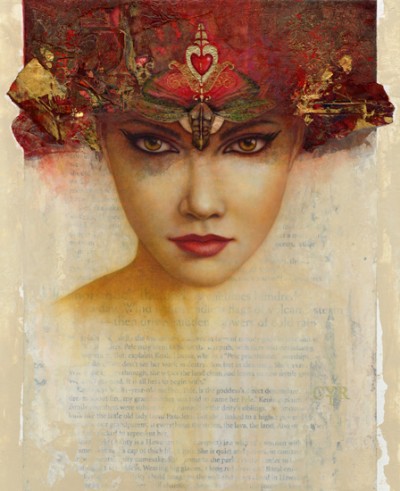 The Norman Rockwell Museum will present the workshop Just Imagine: Creative Storytelling in Journals and Sketchbooks at Norman Rockwell on Saturday, April 28, from 10 a.m. to 4 p.m. Lead by award-winning illustrator Lisa L. Cyr, this hands-on workshop will focus on the development of personal content through journaling and sketching in handmade and custom-altered books. Mixed media techniques and creative writing exercises will be explored, providing an array of possibilities for artists and writers.



"Stories come to me unbidden, flowing out in a dream-like stream of consciousness," notes Cyr. "Guided by my intuition, I begin to paint, further straddling the edge between fantasy and reality."


Admission to the workshop costs $35, $25 for Museum members. To register, please contact the Museum at 413.931.2221 or register@nrm.org


Lisa L. Cyr writes for many leading art publications and has authored seven books on art and design, including Experimental Painting and Art Revolution. She teaches at the New Hampshire Institute of Art, The Art Students League of New York, and Illustration MFA programs nationwide. Learn more about her work at www.cyrstudio.com
https://www.nrm.org/event/just-imagine-creative-storytelling-journals-sketchbooks/


Never Abandon Imagination: The Fantastical Art of Tony DiTerlizzi

On view through May 28, 2018

Known for his successful book series The Spiderwick Chronicles, Tony DiTerlizzi is widely celebrated for his images of such fantasy creatures as fairies, trolls, sprites, and goblins. Never Abandon Imagination showcases over 150 original paintings and drawings, from the games Dungeons & Dragons and Magic: The Gathering, to his many fantasy and children's books, in addition to artworks from his childhood and college years. The exhibition highlights the artist's influences and artistic process, and includes original art from such award-winning books as The Spiderwick Chronicles; Ted; The Spider and the Fly; The Story of Diva and Flea; and The WondLa Trilogy, which have inspired a new generation of young readers.

The exhibition is sponsored in part by The Keator Group, LLC and The Pittsfield Cooperative Bank. Additional support provided by Simon & Schuster, Disney Publishing Worldwide, Gotham Group, The Max & Victoria Dreyfus Foundation, and The Dr. Robert C. and Tina Sohn Foundation. Media sponsor: WGBY Public Television.